Another record down for Peyton Manning, more on the way – ESPN (blog)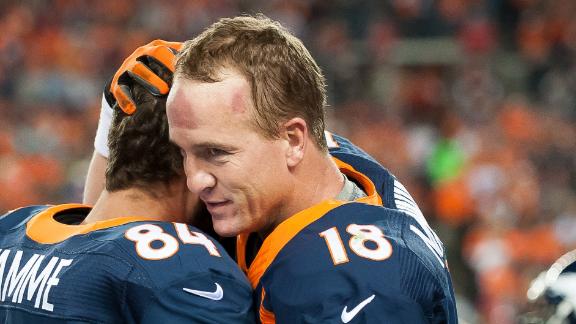 DENVER — Little more than two years ago, John Elway and other members of the Denver Broncos' football hierarchy went to Duke University to watch Peyton Manning throw. It was post spinal-fusion surgery, post-missed 2011 season.
Elway said they saw enough that day to take the plunge and make their best pitch to Manning, that there was "no Plan B." And now it is simply the league's greatest-ever free agent signing, the game-changer of game changers.
So when Manning threw his record 509th career touchdown pass to Demaryius Thomas in a 42-17 victory over the San Francisco 49ers on Sunday, there was a rather startling thought that came with it. Manning has started all of 38 regular-season games for the Broncos. Thirty-eight.
And in those 38 games he has gone from a quarterback simply hoping to compete at the level he had always known in his pre-spinal fusion football life, to a quarterback who may have found another plane beyond it. A place he has carved out with a surgically repaired neck, a glove on his right hand and never-before-seen performance from a quarterback who has passed his 38th birthday.
Manning threw his 507th, 508th, 509th and 510th career touchdown passes as the Broncos moved to 5-1 flaunting plenty of playoff power on both sides of the ball. He opened the 2013 campaign with seven touchdown passes against the Baltimore Ravens, tying him for the NFL's single-game mark. And by the time the regular season was over Manning had thrown 55 touchdown passes, also an NFL record.
"You kind of just know you're part of something big," said Broncos tight end Jacob Tamme, who has been Manning's teammate in both Indianapolis and Denver. "You know someday you're going to reflect on it, …read more