Broncos vs. Chargers preview – ESPN (blog)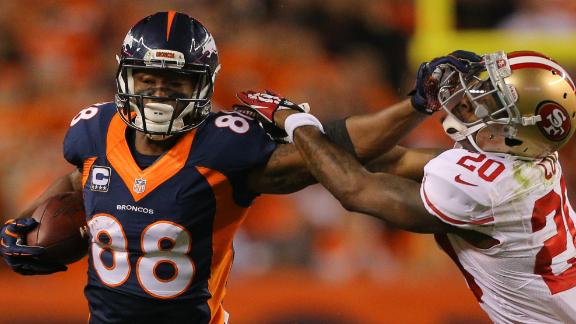 Around the Denver Broncos' complex, last December's game against the San Diego Chargers is referred to by many people, Broncos coach John Fox included, simply as "Round 2." The 27-20 Chargers win was the second of three meetings between the two teams in the 2013 season — playoffs included — and it was also the Broncos' only home loss last season.
So Thursday night's affair is a sequel of sorts given last year's regular-season meeting in Denver was also on a Thursday night. This time, however, the Broncos (5-1) and Chargers (5-2) have powered to the early lead in the AFC West race with both Peyton Manning and Philip Rivers in the early conversation for league MVP.
ESPN Chargers reporter Eric D. Williams and Broncos reporter Jeff Legwold preview the game:
Legwold: Eric, Von Miller and DeMarcus Ware have more combined sacks (15) than 14 teams in the league right now. How would you expect Rivers and the Chargers offense to handle that?
Williams: Fair question. Rivers has done a nice job of getting the ball out quickly. The Chargers are predominantly in shotgun most of the time, so that helps Rivers get set to throw the football quickly, along with San Diego's reliance on the short passing game. Rivers has been sacked just 11 times through seven games. The one thing the Chargers will do more of in an attempt to slow down Denver's talented pass-rushers is give them a steady diet of cat-quick Branden Oliver in the run game.
Jeff, a lot of the conversation nationally has been about Manning and Denver's prolific offense, but staying with Denver's defense, it has held opponents to just 20 points a contest and an average of 74 yards a game on the …read more