Peyton Manning wants Ronnie Hillman to be ready – ESPN (blog)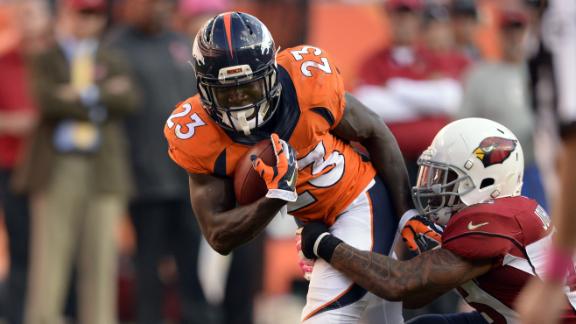 ENGLEWOOD, Colo. — First rule of the Denver Broncos offense is if Peyton Manning says the team needs you, then it's on you to get ready to be needed.
After two-plus seasons of flashed potential with bouts with immaturity along the way, running back Ronnie Hillman needs to ready for his close-up over the next few weeks. It's none other than the Broncos' quarterback, a well-versed preparation zealot, who says so.
"We're still looking for that balance every single week," Manning said. "It's a good opportunity for Ronnie. Ronnie has played has played at different times, in different amounts, but when you're the starting running back, running out for pre-game warmups as a starting back, there's a different hat that you wear."
Montee Ball suffered a right groin injury early in the third quarter of Sunday's 41-20 victory over the Arizona Cardinals. Ball is expected to miss three weeks, but because of the Broncos' schedule it is possible he could still miss three games even if he is able to come back more quickly than initially expected. For his part Ball won't speculate on a timetable for his return, other than to say "there will still be a lot of season left."
Starting with Sunday's game against the Jets at MetLife Stadium, the Broncos will play three games in a 12-day span. This includes a Thursday night matchup against the including San Diego Chargers on October 23rd after hosting the San Francisco 49ers on Sunday, October 19. That puts Hillman on the spotlight.
"Just get out there, help and do what you can do," Hillman said Wednesday. "You just play a role and eventually the time will come and when the time comes you've just got to take advantage of the opportunity. And now's the time."
A third-round pick …read more