The Nuggets, now healthy and with defense-minded additions, could surprise – ESPN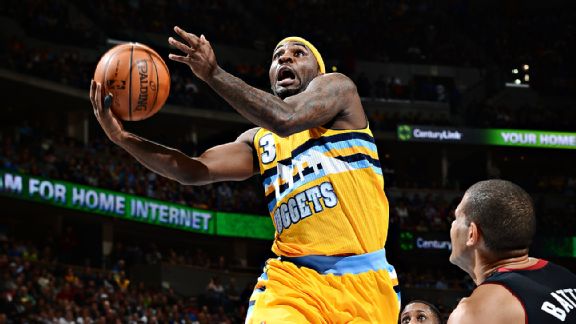 The Nuggets, now healthy and with defense-minded additions, could surprise
Garrett W. Ellwood/NBAE/Getty ImagesNuggets point guard Ty Lawson will be a focal point of Denver's offensive system in 2014-15.
Does Brian Shaw think we're sleeping on his Denver Nuggets?
"Yeah, I do," Shaw said. "I understand because of the season we had last year. We won 36 games, but I still feel like we had a pretty good season based on all the things we had to deal with … I'm not making any excuses. We had the injuries, but we did the best we could do. I'm looking forward to having the guys back."
At this time last year, the Nuggets appeared to be a solid playoff team, but injuries derailed everything. The win total sank from 57 to 36, and the Nuggets never contended for a playoff slot. According to the injury data compiled by Kevin Pelton, the Nuggets lost 10.1 wins because of player unavailability, more than all but two teams.
The wounded are returning, and once J.J. Hickson and JaVale McGee get on the floor — Shaw says they are "very, very close" — the Nuggets' roster will be as deep as the one that won all those games. Former Nugget Arron Afflalo is back thanks to an offseason trade, and Shaw calls rookie Gary Harris "probably our best perimeter defender already." The Nuggets should field a 15-man roster chock full of legitimate NBA players.
Sports reporter, Kansas City Star, 2002-09
Writer, Baseball, Baseball Prospectus
Co-author, Pro Basketball Prospectus
Member, Baseball Writers Association of America
Member, Professional Basketball Writers Association
<!– end …read more